BIOTECH & SCIENTIFIC INDUSTRIES
193-A, Civil Lines, Opp. Sanjay Place
Bagh Farzana, AGRA – 282002 (UP) INDIA
 Botany | Zoology | Other Products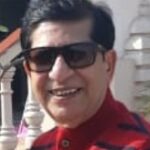 Managing Director
Biotech Agra
"EXCELLENCE IS NEVER AN ACCIDENT; IT IS THE RESULT OF HIGH INTENTION, SINCERE EFFORT, INTELLIGENT DIRECTION AND THE VISION TO SEE OBSTACLES AS OPPORTUNITIES.
And we at BIOTECH Aspire for it.
"
"100% of customers are people. 100%of employees are people. If you don't understand people, you don't understand business."
We are the manufacturers, traders,  exporters of all scientific,  research and educational charts,  models, slides,  specimens, chemicals, Instruments and other  electronic products.
Our area of work extends from zoology, botany, physics, chemistry, history, geography and mathematics to biochemistry, microbiology, biotechnology, anthropology, physiology, psychology,  ayurveda, pharmaceutical,  pharmacology, paramedical, nursing and medical and much more.
You are welcome to explore us.
Number of Years in Industry
Number of Satisfied Customers
happy clients with happy comments
Bulk buying was never so easy.Ready availability of all the products needed.
Excellent quality of all the instruments.
⭐⭐⭐⭐⭐stars. Though ,was a little apprehensive about importing initially...but NO REGRETS now.
A customer needs Best Price,quality,convenience and variety. I got the best package of all 4 at Biotech. Would definitely go for repeated orders.
Get in touch with us via Email or Directly Just Make A Call for Best Price…
+91 98370 88991 +91 98370 30779
sbl_agra@yahoo.com, btiagra@hotmail.com
BIOTECH & SCIENTIFIC INDUSTRIES
193-A, Civil Lines, Civil Lines, Opp. Sanjay Place, Bagh Farzana
AGRA – 282002 (UP) INDIA, Landline: 0562-4000856